Charity Auctioneers Michael Joseph Foundation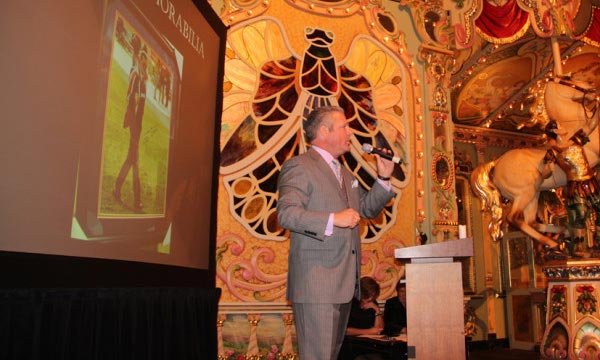 Charity auctioneers not only raise money for the foundation they are benefiting but they also raise awareness to the issues these wonderful non-profit organizations challenge everyday.
Falling near the autumnal equinox to mark the beginning of fall, the
Michael Joseph Foundation's
Harvest Moon Gala on Oct. 5 was aptly named.

The Sanfilippo Estate in Barrington Hills welcomed more than 300 of the foundation's new and veteran guests as they outbid each other, hoping to reach their goal of more than $100,000 in support of the non-profit's ongoing efforts to provide transitional housing for families in crisis.

"Before Christmas, we try to get each child a gift or two, and, depending on the age bracket, money for Jewel and Walmart," said Ida Cardelli, event chair of the foundation's Fund-A-Cause donation.

"This year, we are distributing school supplies and gift cards so they can buy shoes and clothes, depending upon what they need."

But Michael Joseph Foundation's primary focus is to offer temporary housing, transportation, counseling and job training to homeless families that want to ultimately achieve independence. Since 1992, the foundation has helped more than 650 families in Cook and McHenry counties.

As is customary at the Sanfilippo Estate, some returning visitors on Oct. 5 took the opportunity to bring guests who had never before been to the venue, likely to enjoy the looks on their faces when they realized it was a home, and not a museum.

Former Fisher Nuts executive Jasper Sanfilippo opened his Barrington Hills Estate to guests hoping to peruse his collection — the world's largest collection of automatic musical instruments, including the largest Wurlitzer pipe organ in existence. Radio City Music Hall houses second largest.

Cocktails, dinner, bidding and gawking were done in his Carousel Building, complete with an 1890 European salon carousel, Grant Locomotive and 20-foot Joseph Mayer cast-iron street clock.

The Sanfilippo Foundation allows charities like the Michael Joseph Foundation to have their fundraisers at the venue because it tends to attract more supporters and helps raise more money towards their causes.

The silent auction's Mike Ditka-, Jay Cutler-, Derrick Rose-, Corey Crawford-signed sports paraphernalia certainly sparked even more enthusiastic for the evening's fundraising.

As did the live auction's MacKenzie Childs Chicken Palace Jewelry Chest, a three-month lease on a Camaro Covertible, a weekend in New York and an escape to Cabo San Lucas.
Dec 1, 2013
by