ATI Foundation's A Night at the Races – Fundraising Gala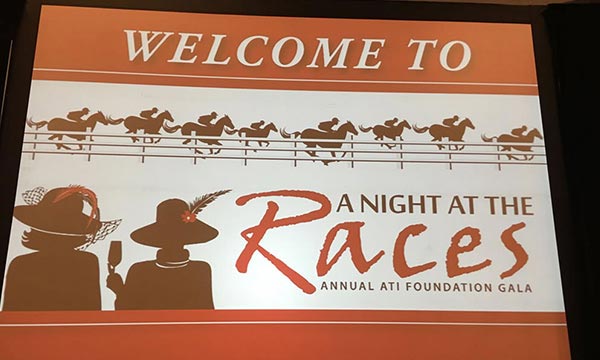 May 13, 2017
Founded by ATI Physical Therapy, the ATI Foundation is a 501c3 charitable organization that gives help and hope to children with physical impairments. It was created as a way for ATI employees and patients to give back to the communities in which we live, work and serve.
Since 2003 they have made a day to day impact on the lives of hundreds of children and their families. They provide financial assistance for medical expenses, medical equipment not covered by insurance, adaptive bicycles for recreations and therapy, grant access to special needs athletic programs, fund therapeutic horseback riding sessions and cover travel and lodging for families requiring out of state care. In addition, they address many other daily hurdles for their beneficiaries!
For the first time ever outside of Chicago, ATI held a fundraising gala, "A Night at the Races", at the Chase Center on the Riverfront in Wilmington, DE. 300 first time attendees enjoyed a terrific dinner, cocktails, horseracing and the main event. The live auction and Fund a Need, was conducted by Keith Jones of Sayre & Jones Auctioneers from Chicago. The event was a great success! The live auction featured a Philadelphia first pitch Executive Experience, A Chicago Cubs vacation package, Atlantic Sports fishing, a Vintner Adventure in Sonoma and a Wild Wildebeest Hunting Safari, just to name a few. The crowd was up to the task and responded generously.
This year's beneficiaries were Preston's March for Energy. Preston, whom the organization was started, has Mitochondrial Disease which leaves him with low muscle tone and development delays. He tires easily and has balance issues but wakes smiling and determined every day to keep up with his friends and big brother. In 2011 Preston was blessed to have an adaptive bike given to him. Amazed by this overwhelming support, the family was determined to "pay it forward" by raising money for other to have an adaptive bike as well. Each bike costs between $1,400 – $2,500.
The ATI Adaptive Bicycle Programs initial partnership began in 2012. This year's recipient was Conor. It was the 42nd sponsored bike given within their partnership over the last five years. Their goal is to have at least one bike in all 25 states nationwide that they currently serve. Their 2nd recipient, Kylie, age 10, has Spina Bifida, Hydrocephalus and Scoliosis and has no use of her legs and is confined to a wheelchair. She also has a sister who has Spina Bifida but can walk. They needed a ramp from their home down to their driveway and a used van with a wheelchair lift. They were currently riding in the back area of their vehicle, not safe, but that's all they could do. Because of the generosity of the attendees at this fundraising event, ATI was able to help make Conor, Kylie and their families lives a little easier.
Jul 21, 2017
by